Amplifier Extender HDMI Full HD 3D POE on Cat.6/6A/7 40m cable with EDID and IR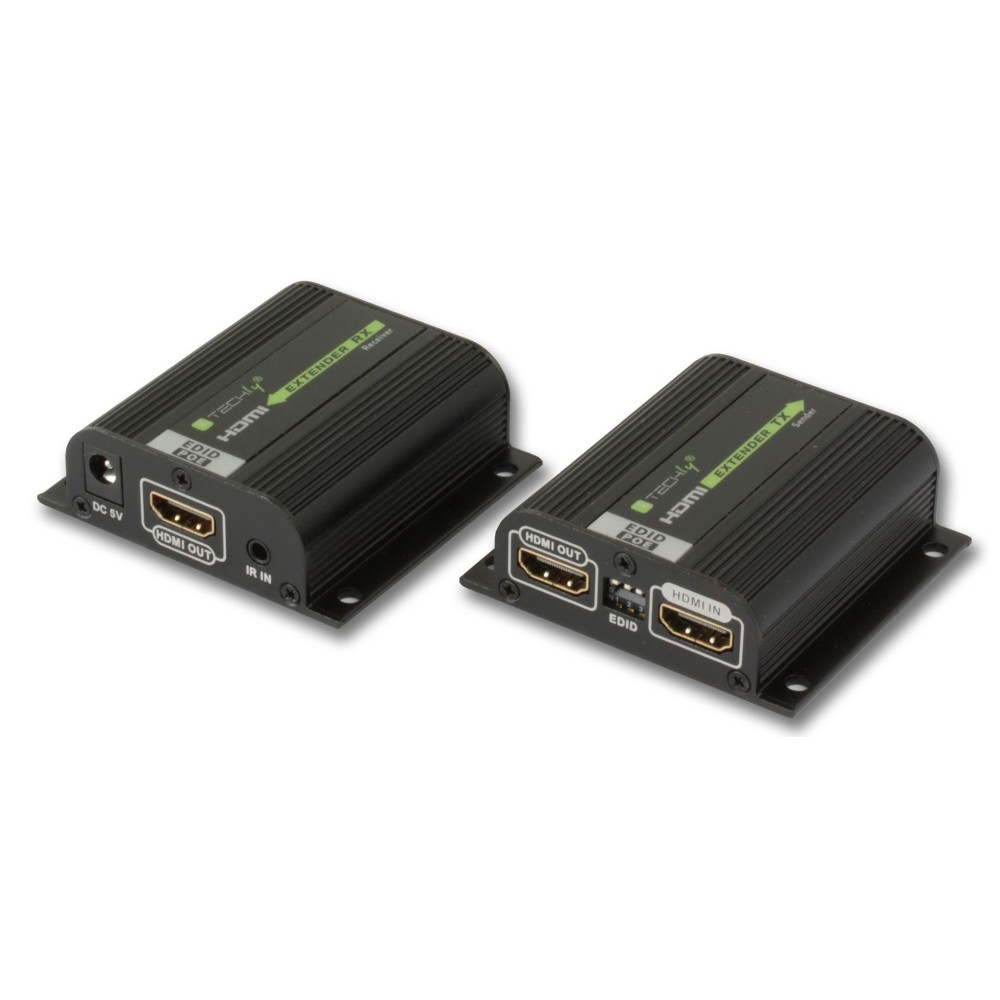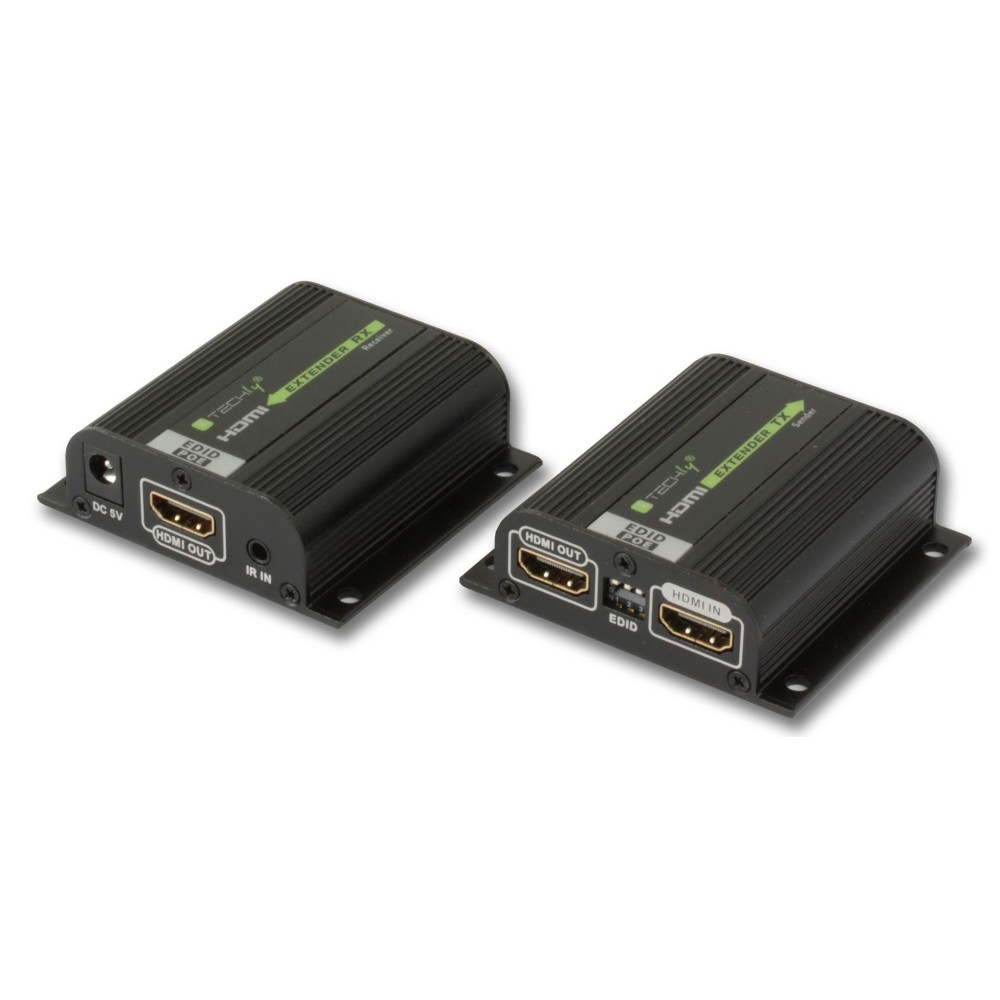 +2
Description
This HDMI Extender allows you to transmit HDTV signal over long distances using a Cat. 6 / 6A / 7 network cable.
Thanks to the use of Network Cable you can reach up to 40m of transmission length with a video resolution of 1080p.
Thanks to the Extended Display Identification Data (EDID) function via the switch, you can adjust the signal to the correct resolution and frequency and get the optimum and maximum quality from the HDMI signal.
IDATA EXT-E70POED can be used canonically through the supplied power supplies or you can leverage the POE function to power the receiver.
The product also features infrared IR synchronization technology, supports 3D signal and is HDCP 1.2a.
Thanks to its versatility it can be used in any environment of both work and leisure as public places, studios, offices and conference rooms or just for home use.
Features
Allows you to easily extend the HDTV signal up to 40m using a Cat. 6 / 6A / 7 network cable

With EDID adjustment for optimal signal / frequency adjustment and support for IR technology

With the LENGHT button for manual adjustment of the distance / signal ratio

Supported resolution: 480i @ 60Hz, 480p @ 60Hz, 576i @ 50Hz, 576p @ 50Hz, 720p @ 50 / 60Hz, 1080i @ 50 / 60Hz, 1080p @ 50 / 60Hz, 3D: 1080p @ 60Hz

Maximum supported video resolution: 1080p

Supports PCM, AC3, DTS audio

Conforms to HDCP 1.2a

Conforms to HDMI 1.4a

Support 3D

IR remote control: supports 20-60kHz

Consumption: TX: < 3W; RX: < 3W

Ambient temperature: 0 ℃ ~ 60 ℃

Power supply via 5V / 2A power supplies, receiver also powered by POE.

Black Colour

Transmitter Connections
5V DC power input

HDMI signal input

HDMI output through

IR signal output for connection with IR blaster extension cable

Reset

RJ45 signal output

LED Signal Indicator LED

Receiver Connections
Reset

RJ45 signal input

LED indicator for connection status

5V DC power input

HDMI signal output

IR signal input

LENGHT button for manual adjustment of distance / signal ratio

Size
Width: 71.6 mm

Depth: 66.9 mm

Height: 22.6 mm

Certification
Package Content
1x Transmitter from HDMI to LAN

1x Receiver from LAN to HDMI

1x DC5V2A power supply

1x User Manual

1x Extension for IR blaster

1x Extender for IR Receiver
Data sheet
general
Brand
TECHLY
Barcode
8051128100709
Certifications
CE , FCC , RoHS
Color
Black
Codice Fornitore
100709
input
Connector A Type
HDMI-A
format A connector
female
Number A Connector
1
Altri Connettori Input
1 x Jack IR 1 x Rj45
output
Connector B Type
HDMI-A
format B connector
female
Number B Connector
1
Altri Connettori Output
1 x HDMI femmina passante 1 x Rj45 1 x Jack IR
technical specifications
Typology
Amplifier
Max Video Resolution
1080p
max bandwidth (MHz)
-
Deep Color
-
HDMI
1.4
HDCP
1.2
3D compatible
Yes
Supported audio standards
Compressed, not compressed
Transmission Distance
40 m
power supply
Power supply
Requested (included)
Consumo energetico
5V 2A
dimensions
Width
71.6 mm
Height
22.6 mm
Depth
66.9 mm
Weight
0.4670
The package includes
• 1x Trasmettitore da HDMI a LAN • 1x Ricevitore da LAN a HDMI • 1x Alimentatore DC5V2A • 1x Manuale utente • 1x Prolunga per IR blaster • 1x Prolunga per ricevitore IR
Customer Reviews
bellissimo, robusto, semplicissimo, il sistema POE inoltre permette di non avere un trasformatore alla ricevente (se cavo CAT 6 o superiore) nessun ritardo di segnale.....
Prodotto eccellente e di facile configurazione.