Free Shipping over 79,00 €* to Italy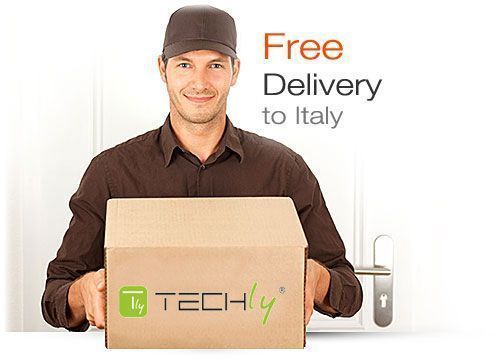 Shipping Conditions
Shipments are made ​​via courier.
In this case, unless otherwise agreed, the goods travel at our risk.
In case of theft or loss, Techly agrees to send a new product and, if the same were to be exhausted, propose a different product, but with equivalent characteristics, with faculty for the client not to accept the alternative and request the emission related credit note.
The timing of delivery it's about 2/3 working days from the date of departure of the package, it depends by the country of destination.
Delivery tme is subject to change due to force majeure or due to traffic disruptions planned by the Authority (which blocks the circulation before the holidays or in August).
Techly works with top quality expressed vectors.


Absence of recipient upon delivery
If upon delivery there is no one to receive the package, the courier should leave a paper notice in the mailbox, with whom he communicates his passing and failure to deliver.
The recipient should contact the branch indicated on the voucher within 3 working days from the date of communicating the shipment number and agreeing to a new delivery. You can request to retain the goods then branch to personally carry out the withdrawal.
At any time after 3 working days from the date of the, if not the game will be no contact from the recipient, the courier will issue notice of storage, charging fees for the redelivery.

In order to avoid misunderstandings please:
- indicate a place as delivery address unattended during the day and tell us in advance of any absences certain
- as soon as possible contact the affiliate in your area as soon as you find the notice of no-delivery
Risk and Property
The goods' shipped prepaid, insurance is not included in the price.
At the time of delivery, the customer is required to verify the integrity of the packages and correspondence with what is indicated in the invoice included inside the package. In case of difference, the same should be reported on the same document within seven days and notified via email to orders@techly.com . In any case, the goods must be checked within seven days of receipt. Any errors must be reported in writing via email to orders@techly.com .